Taking an Italy vacation just might be on your bucket list. And it's an experience everyone should get to have at least once in their lifetime. There are so many different things to see in Italy, and the scenery is stunning everywhere you go.
Whether you want to take in the major cities, really engage with the art and architecture of buildings and past artists, or consume plenty of food and wine, there are tons of choices for vacations in Italy.
And you certainly don't have to pick just one.
On this site, we will guide you through every aspect of planning an Italy vacation. You can find the best deals to experience Italy in whatever way works best for you.
Explore, experience, and enjoy making memories with this Italy travel guide.
Top Places to Visit for Italy Vacations

If you know anything about the layout of Italy, you know it's a vast country with a lot of different hotspots. You may want to grab a rental car and stay in several different well-known regions during your vacation in Italy.
Be sure to check out our guide that details various vacation packages, as well as different cities in Italy to experience for more details and planning. However, these are some of the top places to consider as you start your planning.
While these are the most sought-after destinations for various reasons, you can always look into packages and plan a trip that encompasses a few top locations to visit. It's quite possible you won't be able to squeeze everything into a single trip.
The top picks for vacations in Italy include the following:
Discover a little bit more about these areas and the surrounding countryside below before you travel to Italy.
Rome – The Eternal City

Rome is one of the top choices of Italy tours and a must-see location when you visit Italy. An Italy vacation simply isn't complete without a trip to Rome. Here you can take on the Colosseum and take in tons of history on the Roman empire.
There is much art and architecture to be found here, as well as a taste of Western culture to take part in. Experience ancient relic locations such as Vatican City, Pantheon, Palatine Hill, and others. These are the top attractions in Rome.
You can also visit the Sistine Chapel, Spanish Steps, and Trevi Fountain while you are here.
Rome is huge, and taking in all of these sites might need multiple days to accomplish, so keep that in mind.
It's not named the Eternal City for nothing!
Venice

Another of the most popular destinations is Venice. Venice is known for its romantic canals, specifically the Grand Canal. Rental cars won't do you much good in Venice as you travel to Italy, but it might help you get close!
The streets of Venice are almost entirely made of water, and you travel from place to place via boats. Venice is one of the most unique region locations in Italy, and you could easily spend hours taking in the Venice region, enjoying the romance, and seeing the world from a different point of view.
In Venice, be sure to add a few things to your itinerary. Take a ride on a gondola, see the Rialto Bridge, visit St. Mark's Square, stand near Doge's Palace, and tour the Basilica.
Venice is the perfect blend of romance and sightseeing, so you won't be disappointed when you spend time in Venice.
Florence

Florence is yet another of the most romantic locations in the world and across Europe. Florence is very popular for its artistic beauty and history in architecture and design. Cities like Florence are one of the major things that vacations in Italy need to include.
The top place to visit in Florence is the Cathedral of Santa Maria del Fiore. The dome inside is utterly incredible. You can also find the marble bell tower and other superior features that perfectly portray the Renaissance art that Florence is known for.
Florence has plenty of food and wine. Be sure to consider the Boboli Gardens, Santa Croce, Pitti Palace, and other popular sites to visit in Italy at Florence.
Amalfi Coast

Explore a small but sweet coastal area, and you can get there with your rental car. This is a UNESCO world heritage site, and it's one of Italy's most stunning views. The weather is nice every season, the shops are fun, the wines are delicious, and life will be good at the Amalfi Coast.
There are several different towns to visit in this region. Sorrento is a popular choice, as are Amalfi and Positano. The Amalfi Coast is a great place to explore, and any Italy vacation guide is going to recommend it for your itinerary.
Take the time to walk and simply enjoy the splendor of the area. Take in the Footpath of the gods, Santiago Degli Dei, and many other magical features over the course of your getaway to Amalfi Coast.
You're going to have the best time.
Cinque Terre

Visitors on an Italy vacation should at least cruise past Cinque Terre.
This is one of the best places to experience a variety of Italian adventures. They have museums, ruins, mountains, beaches and coasts all packed into one sweet spot. At one time, it was incredibly challenging to take trips to this area, but local railways have opened it up to make visiting much easier.
It's now among the most famous destinations, and the culture is warm and welcoming. This is one of Italy's top destinations thanks to the beauty of the region and the ability to explore so many parts of Italy while you're there.
It's also a major hotspot for rich and famous travelers, and the waterway will be packed with yachts in the spring. It's quite possible you will see famous people along the way.
A vacation to Italy simply won't be complete without a stopover in this region of the country.
If you are interested in smaller places in Italy like Cinque Terre, take a look at our guide about small towns in Italy. And if you are interested in this area especially, see where to stay in Cinque Terre.
Sicily

Sicily is one of the locations of Italy that is all too often overlooked. That likely means fewer crowds for people planning a vacation in Italy at certain times. This island is not the same as other country hotspots because it started with nothing.
At one time, Sicily was one of the poorest locations in Italy. Even though they have tons of ruins and historical sites related to the Roman empire, they were known for their slums and poor populations.
But the good news is that Sicily has risen above those times and created an experience well worth a visit. Did we mention the history travelers can experience here? You can enjoy castles, beaches, small towns, Greek Temples, and Mount Etna while you're here.
The architecture is stunning, the cobbled streets are inspiring, and the sweet life of the local population in the cities of Sicily will certainly draw you in.
Here you can learn more about the islands of Italy.
Tuscany

Tuscany is home to the Leaning Tower of Pisa, among many other things to consider. The leaning tower is, of course, a highlight of history for your vacation to Italy, but it's just the beginning of this countryside region.
Here, you will find breathtaking rural landscapes, as well as majestic mountains to explore. Italy tours can take you through the vineyards, around the historical locations, and down into the hot springs too. It's a great place for outdoor activities in Italy, with luscious green all around you.
For us, it's really the landscape that makes this so appealing, but there is no shortage of things to experience in Tuscany, just as with other cities. The history, food, architecture, and country view brings everything together.
In addition, their thermal baths and hot springs are some of the best in the world. Tuscany is a famous spot in Europe for wine as well as food, so be sure to make it part of your trip! Wineries in Tuscany produce one of the best wines in the world.
Here you can find the best villages in Tuscany to visit.
Italy Tours to Know About

As you plan your Italy vacation, keep in mind there are many options for tours that could be helpful as you decide where to go. To visit Italy and see the entire country in a day or two simply isn't feasible.
But a great way to experience the highlights of the major stops like Florence, Venice, and other parts of this Europe wonder is to book some Italy tours.
That being said, keep in mind that you don't have to take a bunch of tours for your vacation in Italy to be magical. It just may help squeeze in some of the main highlights of places you want to visit.
Many of these tours are for a specified number of days and will take you through multiple spots, much like Italy vacation packages might do.
Best of Italy
The best of Italy tour is one of the longer Italy vacation packages. This package is designed for 13 days and takes you through Rome, Vatican City, Pompeii, Sorrento, Capri, Assisi, Venice, Verona, Milan, Pisa, Florence, and San Gimignano.
This is one way to see many of the top cities and regions without having to figure out the details on your own. The country has so much to offer, so visit Italy with a tour like this to capture as much as possible.
Jewels of Italy
If 13 days is too much, and you just want to tour the absolute best of Italy, try the Jewels of Italy. This seven-day tour goes through the country and will spend time in the top cities such as Rome, Vatican, Pisa, Florence, Verona, and Venice.
You won't get Tuscany, Milan, or some of the other stops, but you still get a good mix of locations. And you will see Michelangelo's David while you're here.
Splendors of Italy
This is another long trip, and rather than focusing just on hot spots, they take you through the splendors of the country. There are several cities, and many of them are chosen for what they offer, as well as their stunning views.
This 13-day tour will span across Rome, Vatican, Naples, Sorrento, Assisi, Venice, Verona, Lugano, Saronno, Pisa, Florence, and Siena to fill your Italy vacation with gorgeous landscapes and experiences.
These are just three examples of different ways that you can tour Italy and take in the sites. Each city has its own splendor, and a tour just might help you discover your favorite spots in Italy. These trip packages also pick up small city locations that aren't always on a typical itinerary.
From experiencing the capital to enjoying a variety of wines, there is a little bit of everything to choose from. You can head north, enjoy the beach, and grace the capital with your presence to see all that history can provide throughout Italy.
You may already plan on places like Florence, Venice, Milan, and Rome, but we're guessing Siena wasn't on your original list – and it should be!
These are just a few highlights to consider as you plan a vacation to Italy:
Vatican City
Ancient Rome
Renaissance art styles
Leonardo Da Vinci's works
Mount Etna
Delicious cuisine experiences
Olive groves and vineyards
Majestic mountains
These tours are examples from Trafalgar and Costsaver.
Tips to Visit Italy and Make it Great!

We've spent a lot of time talking about cities, towns, and regions you may want to visit. You've seen mentions of spots like Siena, Rome, Venice, Florence, Milan, and more. And while each of these is amazing, it doesn't really tell you what to tour or see while you are there!
Milan is a stunning city known for its art and museums. The airport there will likely be helpful for your trip. The hotels in Milan were built for attraction. There are many little bites of information just like this to know as vacations to Italy are planned out.
From knowing what to see and do on your trip to understanding how to make the most of your trip, we've got you covered with these simple tips to round off this best Italy travel guide.
Specific Locations to Find or Tour

The hot spots are pretty obvious, but there are little gems at every single one that you should be aware of. These may already be on your list, but we want to encapsulate specific details and locations to pinpoint ways to prioritize your trip.
Some hidden gems to your Italy vacation:
The Last Supper Da Vinci piece is in Milan (not Rome) in Santa Maria cathedral
La Dolce Vita is a term based on an old film, and going to Rome is the best way to experience it.
Isola Bella is a stunning island in Northern Italy
The site for Botticelli's birth is located in Florence, and many family influences remain there.
The Colosseum and other ruins of the Roman empire are obviously a huge part of Rome
The Tower of Pisa is in Tuscany
Visit Trevi Fountain while in Rome
Vatican City is part of Rome in a sense and the location for many of Michelangelo's works. It's almost like a city within Rome.
The Roman Forum of Rome is the ultimate touch of history from the Roman Empire
Rialto Bridge connects two parts of Venice and is an icon of the city.
From this list, you will find some top choices for sightseeing. However, you can't go wrong anywhere you go.
Walk the trails, enjoy the beaches, see the mountains, drink some wine, eat delicious food, and spend time taking in as much of this country as possible.
Food in Italy

Italy is known for its food and wine. You can tour vineyards and cuisine locations, but you won't have trouble finding either on your vacation to Italy.
Of course, they are well known for Italian food, and it's authentic here. Enjoy dishes like pizza and pasta, but know that you can also find risotto, polenta, meats, seafood, gelato, dolce, and more while you are here.
Italian food in Italy is packed with herbs and flavors. While you're visiting, take the time to hit up destinations with restaurants and spoils of food or wine to sample. There is no shortage of authentic Italian cuisine for visitors to delight in.
Travel to Italy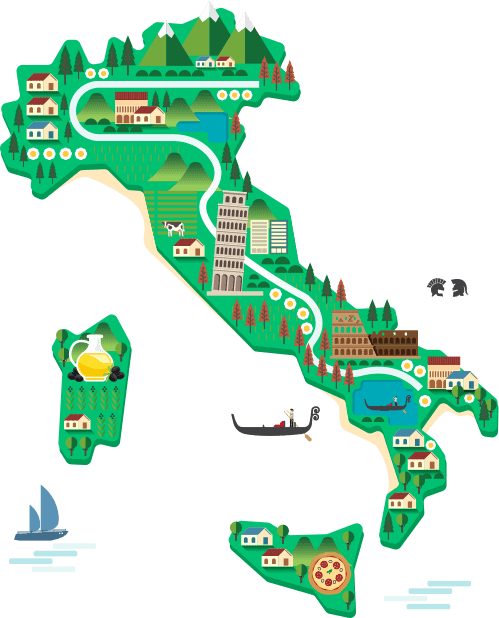 Whether you head to these Italian destinations with a small group, family, significant other, or even on your own, there are things to know about travel. Get your passport ready, plan your destinations, and then plan your flights and other travel accordingly.
It helps to know where you will be visiting and where your hotel or hotels are going to be located too.
Choose the airline, or airlines, with flights that work to get you where you need to go. Once in Italy, you can use flights to move around, but you can also take advantage of car rentals, buses, trains in Italy, and other similar solutions for visiting different Italian locations.
Getting to Italy isn't too difficult, and flights come to famous places like Rome, Milan, Venice, Bologna, and several other airports throughout the country. Plan your flight details to appropriately line up with any other part of your travel package.
Don't forget to book a car if you feel you are going to need one.
Plan Your Vacation to Italy with Ease

An Italy vacation will be loaded with culture, attractions, amazing sights and experiences, and the best time of your life. This might be a bucket list trip for you, or it may become one of your favorite getaway trips.
No matter which category you fall under, you deserve to have a phenomenal experience, and we hope that these Italy travel guides will help you do just that.
And this article was just the beginning of your vacation to Italy. Browse our site's menu, and you will find so much more on our site.
FAQ
What is the Best Time to Visit Italy?
The peak season to vacation in Italy falls into several different months. This includes May, June, September, and October. These months have the best weather throughout the country.
How Many Days in Italy is Enough?
The longer you can stay, the better. There is so much for tourists to see that we recommend you plan a minimum of seven days. Booking vacation packages that are more like 10-13 days is really ideal.
Is Italy an Affordable Vacation?
Between flights, hotels, and other accommodations, even a package won't be cheap to travel to Italy. However, there are affordable ways to accomplish seeing Italy's wonders, and it may just be more affordable than you think.
How Many Major Airports are in Italy?
There are more than 30 cities with flight options in Italy. However, for international transportation, there are 9 major airports to work with.
What is the Best City to Stay at for an Italy Vacation?
Rome is the number one city in Italy to stay in. As the capital, it has many of the focal points of vacation to Italy. However, Amalfi, Venice, Naples, Florence, Tuscany, and Milan are also among Italy's top hotel destinations.