If you know anything about Italy, you know they love their coffee. But it's not just coffee that is spectacular here. Italian espresso is the top coffee that is served and consumed, aside from cappuccino.
And espresso isn't just known in Italy, it is one of the most common Italian coffee selections across the world.
In this guide, we will share everything you should know about Italian espresso, including its history, information about the beans and the coffee itself, some top brands, and more!
Keep reading to learn everything there is to know about Italian espresso beverage, blends, and so much more.
Italian Espresso History

Italy is the home of espresso coffee, and if you're a fan of drinking coffee, you absolutely must try it while you're there. Espresso coffee in Italy is black, like American coffee, but there is an entire Italian coffee culture that surrounds espresso.
In Italy, there are Italian coffee bars and cafes that serve espresso on the go. They do serve other coffee too, but many people will come in and request a shot or a double shot of espresso fresh out of the espresso machine.
There are some different brewing methods, but most of the time, an espresso machine is used in coffee shops to create the perfect flavor and concoction. Most espresso is a dark roast with bold flavor, but there are some Italian brands that use medium roast instead of strong, dark roasts.
The art of making this kind of coffee dates back many centuries ago. The official credit began in 1901 in Italy.
The methods combined small amounts of almost boiling water with finely ground coffee beans. The result was a thick and flavorful coffee – espresso. Of course, the real gem of the creation happens because of the pressurized step in the brewing process.
This is where the flavors and chemicals are bound together perfectly to create a perfect espresso.
That hot water and full-bodied beans or coffee grounds of choice are put into a blend to create a small cup full of taste, low acidity, and high caffeine levels. One ounce of espresso has as much caffeine as a typical 8-ounce cup of coffee.
While a gentleman named Angelo Moriondo is sometimes said to have created espresso, this isn't quite true. He did create a coffee device that was steam driven, similar to the espresso machine used today. It was in Northern Italy that the roasted blend and cappuccino were derived.
Originally, they were only available to the wealthy, but popularity grew and spread around the world. That is when coffee bars began popping up, sporting the best brands and giving clients Italian espresso on the go.
Some people create their own coffee at home using a moka pot. Bialetti is the most known brand for these.
With a small amount of beans and water, you can get a smooth blend. It might just take some practice to get it just right!
Italian Espresso Beans and Coffee Beans

Italian espresso beans are a work of art. They are not just your average coffee beans that bring you Italian coffee. Instead, they are carefully selected and roasted to Italian espresso, which is flavorful and strong.
Some people use ground coffee, but it's really best to start with premium coffee beans, even if you grind them to brew them.
You will find that there are several famous Italian espresso beans out there. We will talk about Italian coffee brands in a moment, but for now, let's focus on the coffee beans!
The perfect cup of Italian espresso uses precisely 7 grams of ground coffee with hot water and 8-10 bars of pressure. You can use coffee beans or ground coffee, but the math needs to be right.
The extraction time of hot water and pressure is 25 seconds. With this mixture and premium coffee beans, you get 25 ml of espresso, which is the perfect cup of Italian coffee or espresso you are going to find!
In most Italian coffee bars, Italian espresso is topped with a touch of coffee cream. Italian espresso beans and a perfected process will create a smooth, rich drink that is fine and doesn't have coarse bubbles from the pressure on the Italian espresso beans.
Italian coffee espresso generally has a hazel to reddish brown color – or at least the perfect Italian espresso does!
The roast degree of coffee beans can vary, but roasting is a must. Dark roasts are used in the majority of Italian espresso, but it's not unusual to use some medium roasting options to suit a variety of tastes.
Arabica is the bean of choice. It is the bean that you will see most often in Italian coffee.
Tips to Choose the Right Coffee Beans
It doesn't matter if you purchase ground coffee or fresh beans, you need to know what to look for. To get the right flavor in your cup, certain drinks may use a certain roast.
This will be different around the world, but in Italy, your cup should be filled with quality flavor for all coffee drinks, especially espresso!
These are a few tips for choosing what goes into your cup or drink.
The bean flavor should always be medium to dark roast
Choose or ground extra fine grind
Pressure and hot water perfect the taste and acidity levels in your cup
It's not about choosing a drink or even a brand. It's about knowing that the flavor is what it should be in your drink. The perfect flavor comes from two things – using a quality roast and getting the pressure extraction just right!
Famous Italian Coffee Brands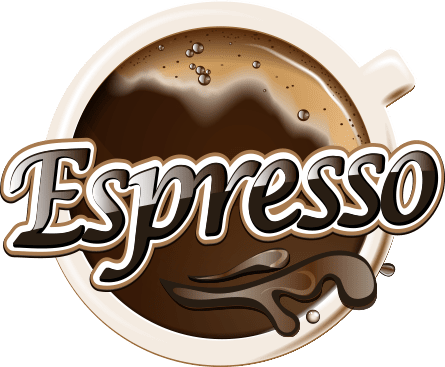 The best Italian espresso coffee brands use premium quality from the top Italian espresso beans available. There are several different Italian espresso brands out there, some of which are famous around the world.
In coffee bars, the same beans are often used to create Italian coffee. They provide Italian espresso cups, as well as other traditional coffee drinks.
And if you want to try your hand at making Italian espresso from home, consider these tools to help!
The best Italian espresso machines for home
Italian stovetop espresso maker
Italian made espresso cups
Italian espresso spoons
Remember that Italy is where espresso was born, so take the time to learn how to make Italian espresso the right way – and use the right accessories to boot!
Check out these best Italian coffee brands, the best Italian espresso beans, or ground coffee solutions. You can even look into coffee pods for your Nescafé machine, for example, but they are not as popular as beans or ground coffee, thanks to the tradition behind Italian coffee.
These are some of the most famous coffee brands from Italy:
Illy
Lavazza
Pellini
Caffe Vergnano
Illy

Illy is one of the most well-known Italian coffee brands, and they have a great product. Illy does offer a variety of ground coffee, beans, or even the coffee pods we mentioned above.
They use the Arabica bean for all of their roast options. You can find several different styles and blends, so choose the roast that works for you.
Illy also has coffee machines to pair with your roast if you need a good choice to make your own coffee. This longstanding coffee brand has been around since 1933.
Lavazza

Lavazza is another leading coffee brand in Italy. Their coffees are divine and are known around the world too. Choose from roasted beans to ground coffee, and find the flavor or style that works for you when it comes to coffee.
This brand also prides itself on sustainability. They are much more than just coffee or ground coffee, and they have a lot of choices for coffee. You will certainly enjoy the perfect Italian espresso from this brand.
As far as espresso coffee, they are one of the originals. The Lavazza family has been around for a very long time, starting with Luigi Lavazza in 1895.
Pellini

Pellini is known for its organic farming of all coffee. Again, you can enjoy the perfect Italian espresso thanks to the integrity of their practices and the bean that they use. Their blend has a light taste with a perfectly roasted blend.
It might even have a dark chocolate appeal in its flavors. The results are low acidity, great taste, and the shot of caffeine you're after.
This is another world-renowned blend, and they have several different roasted flavors to choose from. With a perfect crema, enjoy the chocolate flavors of espresso, or take in a Café latte beverage brewed to perfection just for you.
And what is crema in espresso?
Crema = During the process of creating espresso with pressurized hot water, the natural oils, and fats start to float on top of the espresso. The light brown foam and bubbles are an indicator of a great espresso.
Caffe Vergnano

From tea and sweet lattes with milk to cappuccinos and delightful espresso shot choices, Caffe Vergnano has served the coffee industry since 1882. They have produced millions of options through the years.
You can get the perfect roasted grind, a lovely mix in a tin, or even a capsule variety to bring you smooth and sweet drinks. They have always used a bit of a French style that makes them unique, but they are from Italy and follow Italian tradition as well. You can even open a bar with their brand specifically.
No matter the taste or the flavors you want in your cup, this is yet another coffee brand that can make it happen!
Enjoy the Flavor of Espresso
All over the world, you will find different opinions when it comes to flavor. But Italian espresso is truly authentic, and it's a unique flavor all its own.
Step up to a coffee bar and enjoy a drink of espresso perfected to your liking. There are cafes on every corner of major cities in Italy, and even small towns in Italy will have at least one coffee bar.
The coffee bar will create your drink to perfection, and your body will thank you for the smooth flavors and caffeine boost!
Enjoy an espresso from the people who created the original! They know what they are doing.
If you want to try something new, consider espresso with ice cream for a nice treat, also known as Affogato.
FAQ
What is an Italian Espresso?
This simply refers to the method used to brew the coffee, as well as its strength. It's a very specialized process that uses a specific amount of a selected roast, as well as pressure and water.
What Makes Italian Espresso Different?
The Italians created espresso, and they have the process down perfectly. It's their specialty, which is why you can walk into a coffee bar and take a quick shot of espresso.
What is the Most Popular Espresso in Italy?
Lavazza and Illy are the two top competitors for espresso and other coffee too.
What are the 3 Types of Espresso?
Espresso is just a shot of coffee with high caffeine levels. But you can add milk and create cappuccinos or a latte out of espresso as well. In addition, milk may be used for options like ristretto or macchiato.
Why Does Espresso Taste Better in Italy?
It's not that any other location is doing it wrong. It's simply that they have a perfected process and know exactly what to do to pull out the best flavor and make it smooth at the same time.